So here it is, the final itinerary for tomorrow! I'm really sorry if this flyer has been plaguing your friends page.. I just really like all the bands that are playing and want to make sure everybody knows whats going down! I'm more excited than I am about Christmas!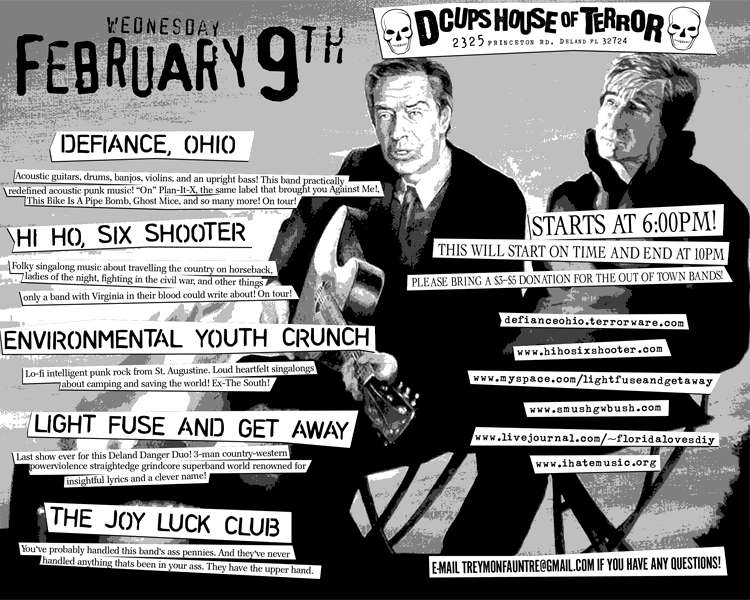 [ FULL SIZE FLYER! ]
[ MAPQUEST DIRECTIONS! ]

---

Wednesday February 9th
D Cup's House Of Terror- 2325 Princeton Rd, Deland FL 32724
$3-5 donation for out of town bands. Get there by 6:00, it'll be over before 10!

Defiance, Ohio - (8:30) Acoustic guitars, drums, banjos, violins, and an upright bass! If you don't know who these guys are you better just come and see what you're missing.. Intense political and personal acoustic punk songs that will smash the state and break your heart! If you used to be into Against Me! before they took on the Fat Wreck Chords sound you'll love this band.

Hi Ho, Six Shooter! - (7:45) They sing songs about travelling the country on horseback, ladies of the night, the civil war, and other things only a band with Virginia in their blood could think of. On tour!!

Environmental Youth Crunch - (7:15) Lo-fi poppy intelligent punk rock from St Augustine. Ex- The South! You'll love them if you're into Plan-It-X style bands. They sort of sound like This Bike Is A Pipe Bomb with some distorted guitars and bass.

...Says I - (6:45) Orlando posthardcore/poppunk trio. They have the No Idea sound, but with a little more diversity and dynamics than you'd expect from a typical No Idea band. Still, you can easily compare them to Small Brown Bike, newer Hot Water Music, North Lincoln, Gunmoll, etc.

Light Fuse And Get Away - (9:15) Deland straightedge powerviolence supergroup world renowned for insightful lyrics and a clever name. This is their last show ever! By the time we play you should be drunk.

The Joy Luck Club - (9:14) This is the new LFAGA band. Debuting 1 song perhaps. Less silly lyrics, less being named similar to another popular band, more awesome songs, and most importantly more hot eats and cool treats.

The Setup Distro will be there with lots of records and zines and buttons and patches etc etc!!


All the donations from the door are going towards gas money because all of the bands need to get to their next shows (2 of them are almost 100 miles away, the other one is nearly 300). "...Says I" got added pretty last minute and I'm really excited to have them play! If you have any questions IM me at "treymonfauntre" or email me at treymonfauntre@gmail.com.